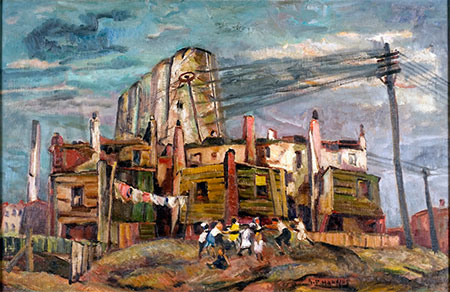 Abraham Peter Hankins (1904-1963) "HOME SWEET HOME" 
 Signed "A.P. HANKINS" bottom center right,
titled and dated '1939' on label verso, 

oil on canvas 26 x 40 inches.


"Don't just say, 'I like it.,' as if you were a lap dog. You have to say WHY."
-Abraham Peter Hankins
---
Biography:
Born in Gomel, Russia in 1904 the son of a poor rabbi, Abraham Peter Hankins demonstrated his talent for drawing at an early age. Because his ability was recognized by his family, he was sent to the United States in 1914 to live with his cousins and study at the Pennsylvania Academy of the Fine Arts and the Philadelphia Museum College of Art.
Hankins lied about his age to enlist in the US Army during World War I. After suffering the debilitating effects of mustard gas and being wounded in his left hand, he returned to Philadelphia where he practiced singing in order to rehabilitate his lungs. As a strong lyric tenor, he came to the notice of a patron who sent him to study in Paris so he could develop a career as a singer. At this point, he studied music seriously and painting became a hobby.
However, eventually his first talent soon proved to be his ultimate passion and he returned to studying art. From 1925 to 1936, he refined his abilities under various masters at the Academy Julien and then privately with M. de Montholon, an admirer of the Impressionists.
When he ultimately returned to Philadelphia, he attended numerous art schools, including the Barnes Foundation, where several of his paintings hang today. As he developed his art, he chose vivid colors and interpreted form, light, and space to give his paintings both integrity and motion. He brought this vitality to his paintings. A generous man, he also taught classes at the Parkway Museum and the Cheltenham Art School, as well as offered private lessons, bringing his unique worldview to many students.
His work resides in the Philadelphia Museum of Art, the Pennsylvania Academy of the Fine Arts, the Tel Aviv Museum in Israel, and in many private collections. He also, during his lifetime, exhibited at numerous prestigious venues including the Metropolitan Museum of Art, the Philadelphia Museum of Art, Carnegie Institute, Library of Congress, and the Grand Salon in Paris. He died in 1963 at 59 in Miami Beach while on vacation.