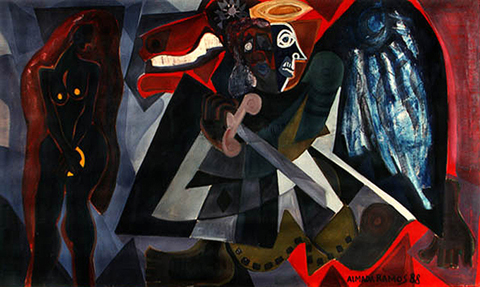 Francisco Almada Ramos (1963-) "LADY and an ANGEL"
Signed "ALMADA RAMOS '88" lower right,
oil on canvas 38 x 64 inches.


"My friends, my name is Francisco Almada Ramos. I have now abandoned my employment so that I can dedicate myself entirely to painting. Now, I would like to describe my work, which reveals both the serious and lighthearted facets of Brasil. My paintings relate what I see when I walk down the street, the faces of the people, the hunger, the prostitution, the violence, the merry-making, the children laying in the gutters. The subjects portrayed in my paintings are truths – exposing the feelings of the people, revealing the natural emotions, which many hide from the world behind a pretty façade. I began with a traditionally academic subject, the nature of death, and have progressed to express more up-to-date art. My paintings have a tendency to cubism but I am well aware of this. It is better to be more expressionist and figurative than to be purely decorative."
-Francisco Almada Ramos
---
Biography:
Francisco Almada Ramos, a modern painter whose work has been shown internationally, is a native Brasilian. His art is a reflection of modern times in Brasil.
Mr. Ramos was born in Rio Claro, near Sao Paulo, Brasil on April 20, 1963. He has studied and worked under the tutelage of such renowned Brasilian painters as Vincente de Paula Alencar, d'Henrique Cavalheiro and Itibere Amargo.
During an interview in 1987, Mr. Ramos described his views on art. 'My friends, my name is Francisco Almada Ramos. I have now abandoned my employment so that I can dedicate myself entirely to painting. Now, I would like to describe my work, which reveals both the serious and the lighthearted facets of Brasil. My paintings relate what I see when I walk down the street: the faces of the people, the hunger, the prostitution, the violence, the merry-making, the children playing... The subjects portrayed in my paintings are truths - exposing the feelings of the people, revealing the natural emotions which many hide from the world behind a pretty facade. I began with a traditionally academic subject, the nature of death, and have progressed to express more up-to-date art. My paintings have a tendency to cubism, but I am well aware of this: It is better to be more expressionist and figurative than to be purely decorative."
Mr. Ramos lives in Rio de Janeiro, Brasil