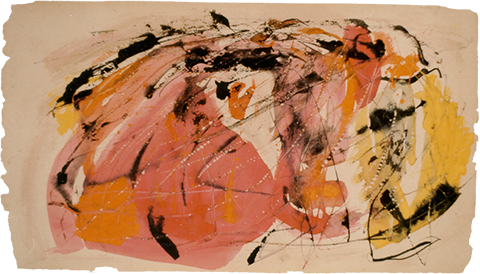 Anne Ryan (1889-1954) "Untitled"
Signed "A. Ryan" lower right,
ink & watercolor on paper 11 x 19 inches.


"You (Anne Ryan) might turn out better then the lot of us."
-Hans Hoffman
---
Biography:
A true Renaissance woman, Anne Ryan, born in 1889, chose eventually to live a Bohemian lifestyle in Greenwich Village with such neighbors as Jackson Pollock, Hans Hoffman, and Barnett Newman. Influenced by these innovative artists and the creative atmosphere surrounding her, she eventually honed her own painting skills and techniques, producing abstract paintings that personified her life and beliefs.
She was born in Hoboken, New Jersey to a wealthy Irish family in 1889. She attended a Catholic convent school and then St. Elizabeth's College, but left in 1911 before graduation to marry William Mc Fadden, a law student. However, Ryan could not immerse herself in a traditional marriage. Her temperament and, at that time, an impulse to write, required a wider and more diverse circle. After three children and many separations and reconciliations, she left the marriage in 1923. By 1931, Ryan traveled with her children to Spain to broaden her scope as a writer. In 1933, she returned to Greenwich Village and continued to write. In this milieu, she was increasingly exposed to the excitement and vision of gifted, young artists who were defining themselves in entirely new, abstract ways. Ryan responded to this and at age of forty-nine began to paint. Fellow artists such as Hans Hofmann and Tony Smith encouraged Anne to develop her own style and experiment. Ryan's first formal training was at Atelier XVII, the studio founded by Stanley William Hayter. Here she observed mature artists at work and became immersed in technique. She explored automatism and surrealism. She created work that reflected the contemporary art scene of the 1940s. Throughout her career, Ryan switched media, creating paintings, wood-block prints and painting-like collages that reflected her unique character and the richness of her life experiences. By the early 1950s, these works were shown in New York at Betty Parsons Gallery and were included in the 9th Street Show and the Museum of Modern Art's "American Painting and Sculpture" in 1951.
Ryan's work abruptly ceased in 1954 when she died of a stroke at sixty-four.