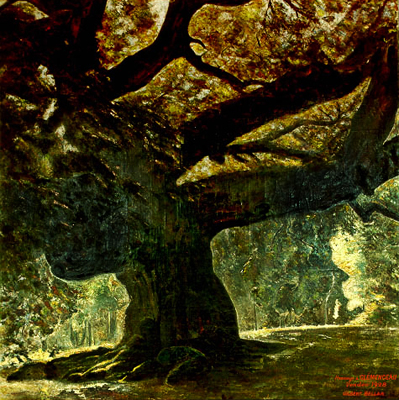 Gilbert Louis Bellan (1868-1938)
"HOMMAGE A CLEMENCEAU VENDEE 1928"
Signed "GILBERT BELLAN" lower right,
oil on canvas 96 x 97 inches.

"The artist has an obligation to conserve grand events by depicting those events accurately but with passion and sympathy so that they burst forth from the canvas and engulf the observer."
-Gilbert-Louis Bellan
---
CLEMENCEAU'S OAK . . . .THE ANCESTOR, Paris Salons 1929
The magnificent oak, which is the subject of this painting, is near Clemenceau's property, in the Vendee, where he now lives in retirement, and Clemenceau is particularly fond of this image of indestructible power. His favorite spot is in its shadow, where he often rests and writes his memoirs; and it was he who suggested that M. Bellan should make a picture of it.
Extracts from "Le Temps" of April 29th, 1928:
"You must bow before 'L'Ancetre,' (the Ancestor) by Gilbert Bellan. The old gnarled oak, twisted like the fingers of a gouty person, is an unexpected and superb work. Isolated in its corner of the Vendee forest, it has been through showers without frowning, victoriously faced the frosts and spread space around it with its shade. It is for this reason that M. Georges Clemenceau, who indicated the subject to Bellan, is in sympathy with it. This living emblem of his own destiny is dear to him, and the artist has magnificently expressed the power and grandeur of the motive."
Extracts from "The Manchester Guardian" of May 24th, 1928:
"There is another kind of sturdy and obstinate sense of life in the picture of a gnarled and ancient and solitary oak tree in a forest by Gilbert Bellan, hitherto known as a painter of water-colours. It is said that subject was suggested to the artist by Clemenceau, already associated with painting as the lifelong friend of Claude Monet, and it is certainly symbolical of his own life and personality."
---
Biography:
A painter in both oils and watercolors, Gilbert-Louis Bellan was born in Paris, France on 19 June 1868. By 1887, he showed at an exposition at the Salon of French Artists and continued his relationship with them until the 1920's. He also participated in the exhibitions of the National Beaux-Arts, the Salon of Independence at the Tuilleries in Paris, and the Watercolor International Exhibition from 1911 through 1936.
He was sent to the Mission of the Armies in 1917 where he created a series of paintings and sketches that he titled France Devastated and Reborn and again, in 1920, the Director of the Beaux-Arts commissioned him for a series illustrating liberated France. In those paintings, he depicted devastated scenes with both individuality and compassion. The Circle of the Interallied Union honored his wartime paintings in 1923, some of which are now owned by the city of Paris and others by the Museum of War in Vincennes, France. In 1919, he painted La Signature du Traité de Paix de Versailles dans la Galerie des Glaces, le 28 Juin 1919.
He continued painting, depicting such varied subjects in both oil and watercolor, as Paris on Holiday, Flowers, Opera House, Celebration of Victory, and New Bridge. One of Bellan's most notable works is entitled L'Ancetre, a painting of a magnificent oak. This painting was done in homage to Clemenceau, the Premier of France during World War I and considered by the French to be "Le Pere la Victoire". This tree, on Clemenceau's property in the Vendee forest, was the place where he frequently rested and composed his memoirs. At the time, a critic noted that it was "an unexpected and superb work…and the artist has magnificently expressed its power and grandeur." Another mentioned that "The subject was suggested by Clemenceau already associated with painting as the lifelong friend of Claude Monet, as a symbol of his own life and personality."
For his work, Bellan earned the distinction of a Chevalier of the Legion of Honor.
Bellan died in 1938, leaving behind a remarkable oeuvre of artistic achievement.