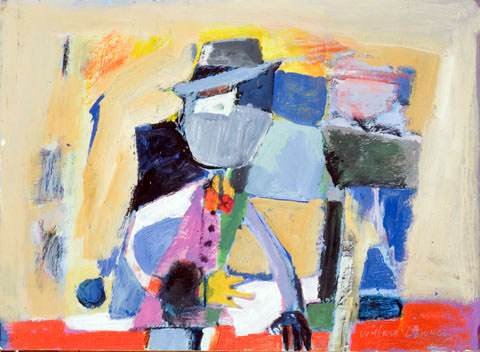 Willard Downes (1908-2000)
Signed "WILLARD DOWNES" lower right,
oil on board 14 ½ x 20 inches.


"One of the artist's challenges is to add beauty and charm to the mundane world by enhancing that world with his creative vision."
-Willard Downes
---
Biography:
Willard Downes was born in Washington, DC in 1908 and grew up in Fredericksburg, VA. At age 17, he moved to New York City to pursue a career as an artist. In New York, he attended the Art Students League, the National Academy of Design, and the Industrial Arts School and began a dual career as a commercial illustrator and fine-arts painter.
Early in his career, he was hired to help paint billboards for Columbia, Paramount, and Warner studios in Atlantic City and then in Philadelphia. He worked as a newspaper and advertising artist for three New York newspapers: The Herald Tribune, The Journal American, and The Brooklyn Eagle. Additionally, his illustrations appeared in many magazines such as THE SATURDAY EVENING POST, LIFE, GOOD HOUSEKEEPING, and COLLIERS. He was commissioned by motion picture studios in the 1930s and 1940's to do publicity sketches of the big name stars of the era. His portrait drawings of movie stars of the 1930s included Tallulah Bankhead, Clark Gable, Errol Flynn, Donald Crisp, Miriam Hopkins, and Spencer Tracy. One of his most profitable drawings turned out to be his sketch of publisher and movie mogul William Randolph Hearst for Editor & Publisher magazine which led to a part-time job with the Hearst newspapers.
He illustrated books for the publishing companies Fawcett and Golden Books and cover art for hundreds of paperbacks such as Before It's Too Late and Dangerous Legacy as well as press kits for movie companies. He led a $15 million advertising campaign for Kent cigarettes and created original paintings of Yellowstone National Park. During World War II, he introduced a series of posters entitled I Am Still an American which now reside in the Library of Congress. His movie star portraits and caricatures have been promised to the Smithsonian. In the 1950's, he explored aspects of Modernism, particularly those which he believed exemplified the Modernist credo that the world could be transformed for the better via the arts. With this in mind, he produced abstract paintings on a myriad of subjects which provided another channel for him to enhance his creative canon. These, along with his illustrations and posters, he exhibited at numerous museums and galleries. By the 1970's and 1980's, he offered his services as a freelance artist to such publications as The Free Lance-Star in Fredericksburg, VA.
He was actively engaged in all aspects of fine art, illustration, and commercial art throughout his long life. He died, at 92, on 11 September 2000.
Karlie Corporation does not represent this artist or estate of Willard Downes.