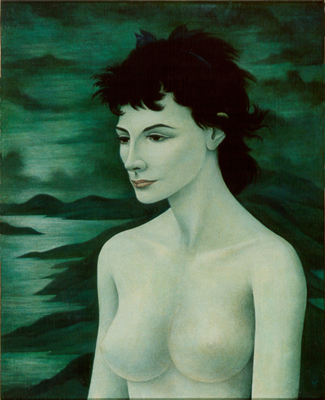 Charles Child (1902-1983) "INWARD LOOKING"
Signed with cartouche lower right,
titled and dated '1955' on label verso,
egg tempera on board 24 x 20 inches.


"...no culture is an exclusive culture. All arts are influenced by other arts, and it's important to include historical perspective and be familiar with other arts."
-Charles Child
---
Biography:
Charles Child was born in 1902 in Montclair, New Jersey. After an uneventful childhood, he entered Harvard University where he became the art editor of The Harvard Lampoon. He then spent five years in Europe and Asia, studying and honing his artistic techniques. Upon his return to America, he used those skills and experiences to become a peripatetic artist who ventured into portraits, nudes, landscapes, book illustrations, and fabric design.
In the 1930's, he painted the fire curtain for the Bucks County Playhouse where he depicted the town of New Hope, Pennsylvania. Local landmarks are Bowman's Tower the Logan Inn, and New Hope Railroad Station, as well as The Playhouse. Many aspects of the townspeople in their daily lives, including a nude sunbather and artists setting up easels are painted around the landmarks to emphasize New Hope's reputation as an artists' colony. In 1937, as part of the WPA program, he created the mural William Markham Purchases Bucks County Territory, oil on canvas, for the Doylestown, Pennsylvania main post office.
He directed the art and music section of the Cultural Board of the State Department in 1942 and later he was an advisor on the Arts and Humanities Board and helped to develop a cultural exchange program. He illustrated and wrote a book in 1965, Roots in the Rock, which was a non-fiction account of the building of his summer home in Maine. For many years, Child wrote a weekly column for the New Hope Gazette called "The Inner Eye", focusing on his travels and observations of contemporary life.
An interesting side note on Charles Child is that his twin brother, Paul, also an artist and a poet as well as a cartographer and a member of the State Department, met and married in 1946 Julia McWilliams, eventually famous as Julia Child, The French chef.
Charles Child died on February 8, 1983 at Pennswood Village in Newtown, PA.